Fuzine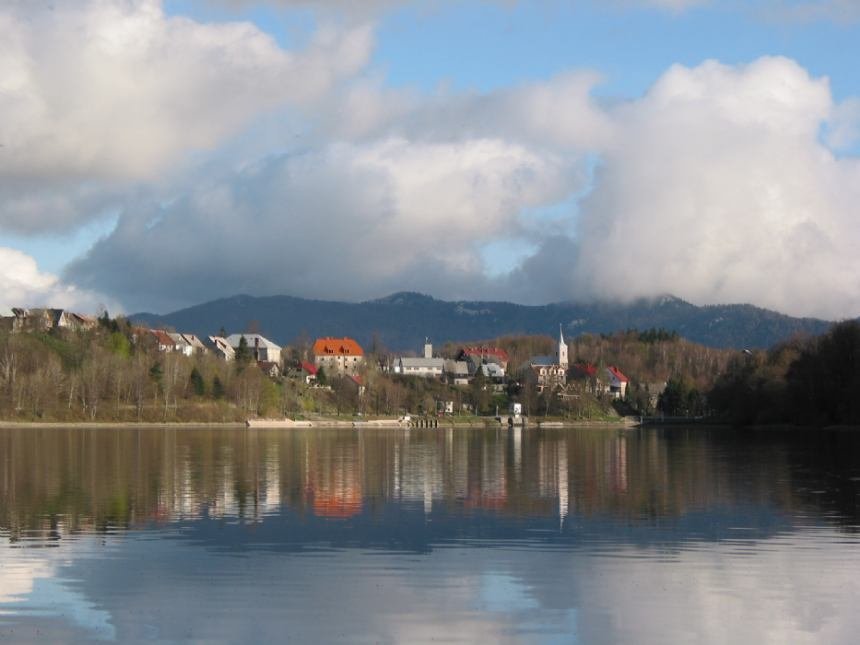 ---
---
Fuzine is a famous tourist destination with very long tradition. There is a historical record from as early as 1874 about the first organized trip of guests who used to arrive from Susak, Rijeka and coastal villages nearby in special trains. Even earlier there were shelters called "konaci" and resting places for caravans on the road Karolina (1737), to which Fuzine owe its development, so Fuzine classify as one of the oldest tourist spots in Kvarner, Croatia, even in the central Europe.
Long ago, in 1898 travel writer Dragutin Hirc wrote: " … There is no other area in the homeland where there would be so many interesting things in such a small space, as there is around Fuzine. There are few areas even in foreign countries, where beauty is laid before you as in a palm of the hand. The surroundings of Fuzine are magnificent, it is a true alpine region. Encircled by high hills covered in evergreen woods, there are fir groves, … there are mountain ports and beaches, meadows with most luxuriant mountain and alpine flowers, there are streams, streamlets, little springs, valleys, plains, there are landscapes that elate your soul completely, there are many, many things and the attire that Fuzine wears is adorned and of which it is proud."
The first president of the Croatian Academy of Sciences and Arts, Franjo Rački PhD (1828 -1894) was born in Fuzine. A famous scientist, Tadija Smičiklas, while writing about him noted that he was born in "MAGICAL FUZINE".
Even today, after more than half a century since our forefathers described it, Fuzine has preserved some of that "adorned attire" mentioned by Hirc or "magical quality" described by Smiciklas.
The village is situated 730m above sea-level. Its climate is the continental variety of the mediterranean, with particularly beautiful spring, summer and autumn, and snowy, frequently quite long winters. The average annual temperature is 7.6 degrees Celsius. In summer the temperature rarely exceeds 30°, and the nights are virtually never warm. Therefore in summer the climate is very pleasant, as are winter days with stable weather and great amount of snow. Fuzine is known for its fresh mountain air continuously provided by Bora, wind prevailing during anticyclone periods. The nearby mountain tops (Bitoraj 1385m, Visevica 1428 m, Tuhobic 1106m, Preradovic 885m) offer magnificent views on picturesque woods of Gorski kotar and its surroundings: the lakes, the villages Vrata, Lic and Fuzine, the karst plain Licko polje; but also on the sea, coastline and the islands of Kvarner.
Fuzine is very well connected. The area borders with the gulf of Kvarner so the distance to the seaside is only 30 km– the Riviera of Rijeka, Crikvenica and Vinodol – and only 22km to the island of Krk. Fuzine is situated in the proximity of the new highway Zagreb-Rijeka, and the village is easy to reach. You can also visit it by train, a trip now considered somewhat romantic. Therefore you can spend pleasant nights in Fuzine during hot summers, and at the same time have the advantage of staying at the seaside.
Fuzine is characterized by rich water resources. Today there are three accumulation lakes: Bajer, Lepenica and Potkos which fit beautifully in the mountain landscape. They are rich in fish and easily attract anglers. The clear water abounds in trout, round chub, marble trout, common carp, pike, grass carp etc. The lakes host sailing regattas and diving contests, and surfing, boat rides and canoeing is also available. The deep woods of Gorski kotar are perfect for hunters because they abound mostly in large animals, but in other game animals as well.
Tourist attraction of a significant importance is the cave Vrelo. It was discovered in the 1950s during the construction of the accumulation lake Bajer. It is well lighted and adapted for professionally guided visits. It is 300m long and quite specific for the underground water which flows through it –the only Croatian cave adapted for tourists which has this feature. Its relief has no steps and it is suitable even for visitors in wheelchair. Because of its accessibility and attractiveness it is visited by all generations, from kindergarten children to the elderly.
As a popular tourist destination, Fuzine offers many sports and recreational activities. In the surroundings you can find nine marked walking and cycling trails, marked trekking paths, and the most popular is the walking path with trim trail around Bajer. The beautiful park Gorica with three tennis courts offers the possibility of practicing active sports and recreating. In the village of Vrata there is the sports and recreation centre "Gmajna". The village has all the services necessary to ensure a normal life for the inhabitants and a pleasant stay for the guest. There are: medical centre, pharmacy, bank, post office, railway station, petrol station, public utility services, municipal administration, and tourist office.
The area around Fuzine and Lic abounds in cultural and sacral buildings. The oldest church is St. Juraj in Lic dated in 1662, and the construction of the church of St. Antun of Padova in Fuzine lasted for entire 25 years, from 1808 to 1833. It is the largest building of the type in Gorski kotar. An attraction of particular interest is the Sanctuary of Blessed Virgin Mary of Snow in the plain Licko polje. Tradition has it that in 1733 Our Lady appeared in snow on that very spot. Pilgrimages to the Sanctuary continue for centuries in search of prayer and healing, and every year, on 5th of August a traditional pilgrimage is organized to the spot. Instead of the big church, which was ruined in World War II, today the Sanctuary is adorned by a little church built in 2002.
In the oldest village of the area, Lic (marked on Venetian maps in the 12th century), there is a very appealing and by many things special County collection, which encompasses many interesting ethnographic objects and archival material that speak of the history of the area.
The early start of organized education was very significant for the development of the area of Fuzine and Lic. Fuzine gets its first school building in 1785. It is one of the oldest schools in this part of the country, and it has affected the high level of literacy and culture of the population throughout the history. In the villages of the county of Fuzine, the dialects which are spoken are Shtokavian, Kaikavian and Chakavian: the fact that is valid until this day so all three dialects and their specific question words: "ca", "kaj" and "sto" stand as an interesting specificity of the area.
Cultural associations have a long standing tradition in Fuzine, and one which holds a distinct place in history as well as today is the association "Fuzinarska glazba" (the music of Fuzine), the Croatian Red Cross Orchestra, founded in 1848. "Fuzinarska glazba" is the trademark of Fuzine, it performs with great success in the country and abroad and numbers more than 50 active members.
Fuzine is very famous for its gastronomic offer. Excellent restaurants offer a wide choice of indigenous, homemade dishes or dishes with mushrooms, game meat, and forest fruit prepared according to original recipes. The village is also known for comfortable accommodation units in guesthouses, hotels, apartments and mountain lodges, and here you can also find wellness and fitness facilities.
In Fuzine you can always find entertaining events. In the hotel Bitoraj there are daily live music kocerts, and some entertaining events are already widely known: the "Summer in Fuzine" with its sailing regattas, biker meeting and famous summer carnival, concerts of various orchestras, "klape" (Dalmatian choirs) and pop singers. In winter what has to be noted are the carnival festivities, concert of "Fuzinarska glazba" for Christmas and the New Year, as well as very original outdoor Farewell to the old year, every year on 31st December, precisely at noon.