Cave "Vrelo" Fužine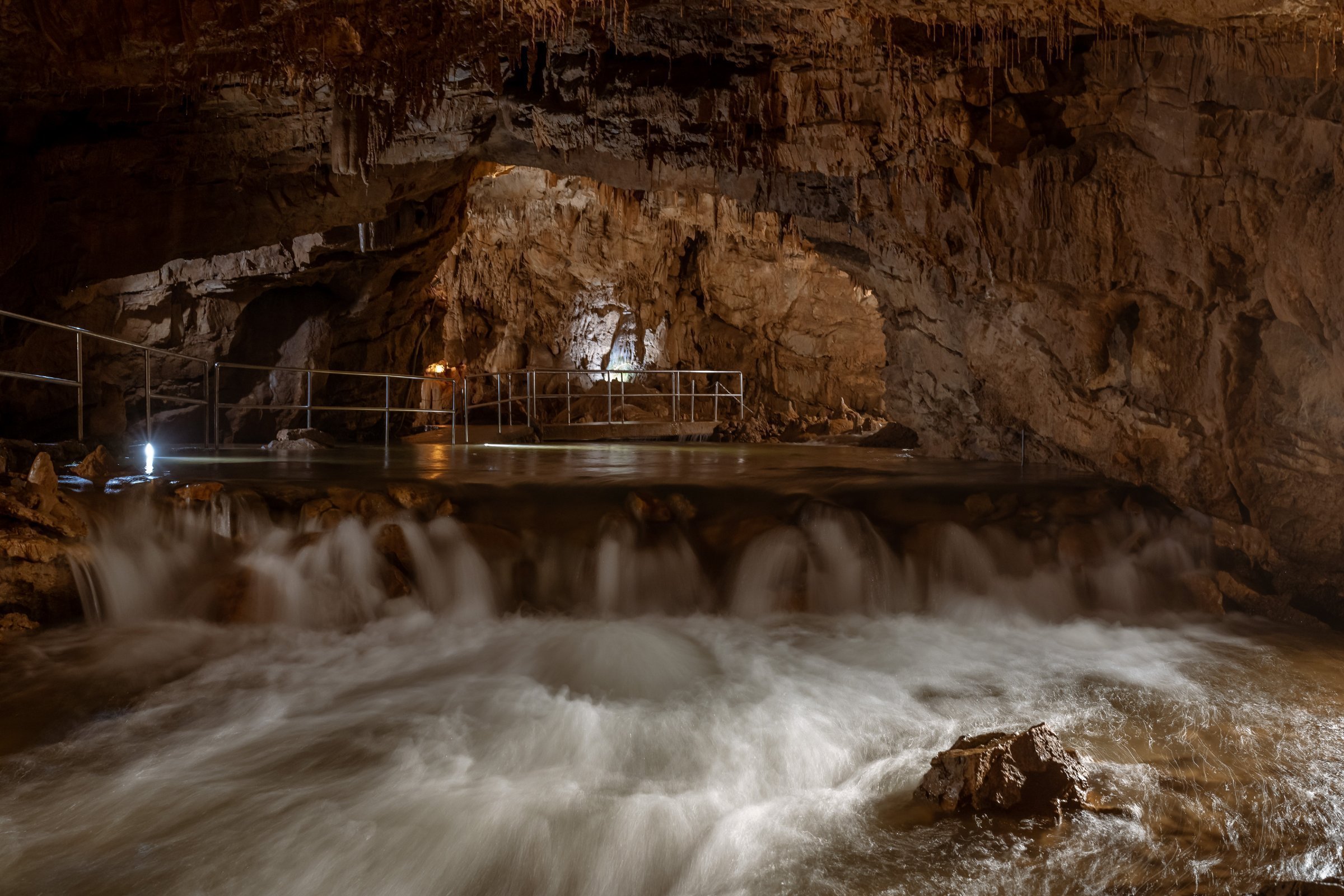 ---
---
1.12. - 30.12.2022.
working hours:
Friday
14:00 - 16:00 h
guided tours
: 14:00 / 15:00 h
Saturday, Sunday, holiday
11:00 - 13:00 / 14:00 - 16:00 h
guided tours
: 11:00 / 12:00 / 14:00 / 15:00 h
25.12.2022.Christmas - CLOSED
31.12.2022.
-
guided tours
: 14:00 / 15:00 h
1.1.2023.
-
guided tours
: 14:00 / 15:00 h


* For groups of caves Vrelo is open on other days with prior notice.
TICKET PRICE: adults HRK 40,00 / 5,31€, children (4-17 years) HRK 30.00 / 3,98€, family (two adults and up to three children) HRK 110.00 / 14,60€
Payment in cash only, for groups and by proforma invoice.




The cave is completely flat, has no stairs and is suitable for visitors of all ages. The tour is provided for people with disabilities.
Entry for organized groups (more than 10 people) is provided outside working hours by prior arrangement.
The announcement of the group is made by mail: tourist.info.fuzine@gmail.com at least three days before arrival.
The guided tour takes about 20 minutes.
The temperature in the cave is 8 degrees so we ask visitors to bring appropriate clothing.
Brief information about the cave:
The Vrelo cave in Fužine was discovered by chance in the 1950s during the construction of the Bajer reservoir. Its age is estimated at 3.5-4 million years. Although it is only 300 meters long, it is extremely beautiful and rich in cave decorations. The special value of the cave is given by its water - at only fifty meters there is a beautiful mountain spring, lake and abyss that make it especially attractive. The clear and cold mountain stream is from the Ličanka river basin and floods the cave in extremely rainy periods. Due to its beauty, the Vrelo cave is often called "Postojna in small". The cave was arranged for visits and restored with new lighting and a footpath with bridges in 1998. Due to the mild configuration of the terrain, without a single step, it is the only tourist cave in Europe that can be visited by all ages, children, the elderly and even the disabled in wheelchairs. Annually, the Vrelo cave is visited by more than 10 thousand guests.
Mail: info@visitfuzine.hr
Contact: + 385 / (0) 91 / 183-5000 (Monday - Friday from 7-15 h)